Debbie E. Lanin - Associate Professor of Legal Process
Debbie E. Lanin
Associate Professor of Legal Process
B.S., magna cum laude, 1991, State University of New York at Albany
J.D., magna cum laude, 1994, St John's University School of Law
&nbsp
Contact Info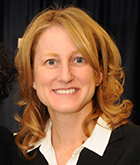 Biography
Professor Lanin taught several courses at the Law Center from 2011-2014, including Legal Process and the seminar component of the innovative Federal Judicial Externship course. She makes her return to the Law Center in August 2019 as an Associate Professor of Legal Process.
Professor Lanin was a career law clerk for United States District Judge Denis R. Hurley in the Eastern District of New York for nearly eight years and a term law clerk for United States Magistrate Judges Robert M. Levy, A. Kathleen Tomlinson, and Arlene R. Lindsay, for a total of five years. As a law clerk for four different federal judges, Professor Lanin developed a broad understanding of the entire litigation process and draws on that experience in helping her students become effective communicators.

Professor Lanin also practiced litigation as an associate at the firms now known as Hogan Lovells and Windels Marx Lane & Mittendorf, LLP in New York City. In addition, she worked as a Senior Legal Consultant at Cyber Diligence, Inc., an eDiscovery firm in New York, where she advised clients on how to prepare for and meet eDiscovery challenges.

During her time at the Law Center, Professor Lanin worked closely with the late Senior District Court Judge Leonard D. Wexler in developing the Federal Judicial Externship course. The students' in-court experience with Judge Wexler was coupled with an intensive federal trial advocacy seminar taught by Professor Lanin. The curriculum, which was constantly adjusted to keep pace with the proceedings in the courtroom, covered everything from jury selection strategies to effective opening and closing statements, taking a case from pleading to trial, discovery disputes, motion practice, oral advocacy, and effective settlement negotiation.

Professor Lanin currently has her own litigation practice, specializing in legal research and writing in complex commercial cases. She has presented at numerous law firms and Bar associations on Long Island on drafting motions in federal court and the basics of discovery.
Courses
Legal Process I and II