Graduate Spotlight: Kerry-Ann Bailey
Graduate Spotlight: Kerry-Ann Bailey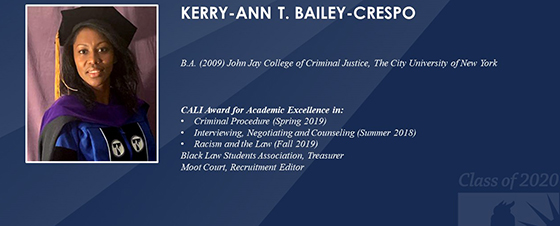 Kerry-Ann was born on the Caribbean Island of Jamaica. Her early years were without much family support. After moving to Canada to live with her dad for a few years, she decided to move to the United States to live with an aunt, whom she remembered from her childhood. After moving to the United States, she struggled to stay focused and happy during the first few years. The joy of giving birth to her daughter during her college years gave her a renewed sense of purpose and determination to create a better life for her daughter than she had. Her daughter also provided her with the inspiration to follow her dreams.
Kerry-Ann realized early in life that she would have to advocate for herself, even in uncomfortable and unpopular situations; this gave her the confidence to advocate on behalf of others and also helped her to realize that she wanted to become an attorney. Her determination, ethical standards, and hard work have served her well. Following graduation from college, she married the love of her life and expanded their family with the addition of two boys. Now the mom of three, Kerry-Ann, knew it was time to head to law school. She knew Touro Law was the right place to pursue her law career. According to Kerry-Ann, "Starting law school with three children was going to be a challenge. However, I had heard that Touro had a part-time program to accommodate my schedule and community initiatives for a full law school experience.
Assistant Dean for Student Services Althea Sterling admired Kerry-Ann as she pursued her law degree. She said, "Throughout law school, Kerry-Ann took full responsibility for her learning and maintained a healthy balance between law school and her family. Her success in law school is rooted in her ability to analyze the law through a critical lens, challenge the status quo, and seek change where it is desperately needed. In several conversations with Kerry-Ann, I found her to be articulate, analytical, and self-aware. Kerry-Ann possesses the intellect, tenacity, and motivation that has made her successful in law school."
Kerry-Ann finished law school ahead of schedule by enrolling in summer classes. She was also an active and involved student, participating in various student organizations, including BLSA and Moot Court. "I am so thankful for the support I received at home from my husband, children, and everyone at Touro Law. I believe the early struggles in my life prepared me for this challenge and am thankful for the outpouring of support I received along the way. My husband learned to cook, my kids took on chores, my professors were supportive of me, and my classmates were rooting for me. There was no way I was letting any of them down!"
As for graduating during a pandemic and looking ahead to the future, Kerry-Ann is hopeful. She said, "I have my family and the Touro Law family behind me, so I am confident about the future." After taking the bar exam, she plans to practice law and is interested in a political career.
Back