The Cover Conference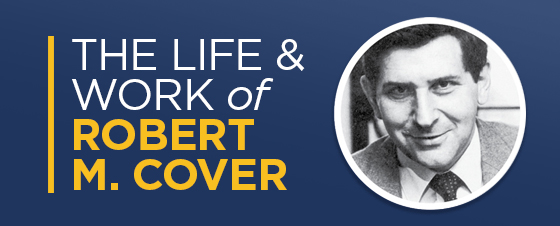 The Life and Work of Robert M. Cover - A Two-Day Conference
The Jewish Law Institute at Touro Law recently, directed by Professor Samuel Levine, hosted a conference, The Life and Work of Robert M. Cover. Robert M. Cover served as a Law Professor at Yale but was also so much more. A scholar and activist, his noted works Justice accused: Antislavery and the Judicial Process, "Violence and the Word," and "Nomos and Narrative" stirred action for social justice and change. The two-day conference included panels with leading scholars across the country who focused on Mr. Cover's extraordinary life and work.
Click here for Conference Program and Videos.

What people are saying...
"What a pleasure it was to learn more about Professor Cover's life, social activism, and legal scholarship and to see his influence on his students and colleagues. Thank you!"
Itamar Rosensweig
Rabbi and Professor of Jewish Law
"The organizers provided an amazing opportunity to bring Robert Cover's life and work again to center stage while permitting old friends to re-unite both in person and virtually, and new Coverians to become part of the never-ending debate about Bob's meanings.....Thank you!"
Richard Weisberg
Professor of Law
Cardozo School of Law
"With many thanks to Sam and the organizers and of course to the legacy of Robert Cover, which clearly continues to give us a vocabulary for, and a way of seeing, the complexity of law."
Katharine G. Young
Professor and Associate Dean of Faculty
Boston College Law School
"A great conference that showed the lasting power of Robert Cover's scholarship, teaching, and activism."
Peter Margulies
Professor of Law
Roger Williams University School of Law
Back