Student Spotlight: Kaitlyn Pickford
Student Spotlight: Kaitlyn Pickford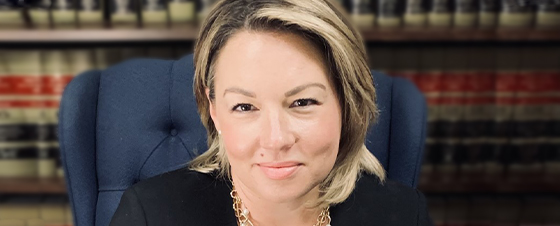 Kaitlyn Pickford knew a law degree would help advance her career, so she enrolled in Touro Law's part-time program. She has successfully navigated an academic life and professional life that often intersect – while remaining a devoted mom of two young children.
Why did you decide to go to law school?
I knew that a law degree would offer career versatility and tremendous potential for professional success. Being immersed in the legal community as a non-attorney gave me unique insight and confirmed my desire to pursue this career path.
Why Touro Law?
I worked closely with the Law Center for nearly a decade before matriculating as a student in 2017, first as a director at a local non-profit organization with space in the Public Advocacy Center and then as the Outreach Coordinator for the Suffolk County District Administrative Judge's Office. The part-time program allowed me to continue working full-time while growing my family. The proximity of the law school to the John P. Cohalan, Jr. Court Complex was perfect for me. Touro Law provides a supportive group of faculty, students, staff, and alumni. Many well-respected members of the bench and bar are graduates of Touro Law Center and there is a real sense of community among alumni.
What has been the most surprising thing about law school so far?
Most surprising is how quickly these five years have flown by. The reduced course load each semester in the part-time program gave me the right balance to concurrently pursue other professional and personal goals.
Are you involved in any student organizations or groups or pro bono projects?
I am a member of the Honors Program and am currently participating in the Bankruptcy Clinic. In addition, my academic and professional worlds often intersect. I was recently appointed co-chair of the Suffolk County Women in the Courts Committee for a two-year term alongside Elizabeth Justesen, Esq., an Adjunct Professor at Touro Law Center. Together we coordinate programs of social importance and lead a group of approximately 90 judges, attorneys, and community leaders. We recently collaborated with the Women's Bar Association of Touro Law to present, "What to Expect When You're Expecting a Law Degree." I also serve as the Associate Director of Internship Programs for the Suffolk County Courts and have enjoyed working with Touro Law's Career Services Office over the years. The interns from Touro Law are consistently hard-working, personable, and highly capable.
Have you had any hands-on experiences that have shaped your law school experience and/or influenced your career path?
My favorite experience to-date has been delivering an Oral Argument in my first-year writing course. Conveying legal arguments to support my Appellate Brief was exhilarating! I knew from that experience I wanted to be a litigator.
Have you had any mentors/professors that have made an impact on you?
Adjunct Professor James Miskiewicz solidified my interest in criminal law. With only four students in our Criminal Law I course, we could really explore the issues, debate concepts, and delve deep into the case law. Our small class really bonded, and they even surprised me with a baby shower at the end of the semester! After taking his class, I sought to expand my understanding of criminal law by taking Criminal Law II, Criminal Procedure, and Trial Practice.
The Honorable Gaetan B. Lozito (Ret.) has been a wonderful source of support during law school. Brilliant, kind, and well-respected, her mentorship and strong moral character has profoundly shaped my future goals. Suffolk County District Administrative Judge Andrew A. Crecca, my supervisor at the Suffolk County Courts, and Jane LaCova at the Suffolk County Bar Association have also given me so much encouragement and advice.
What would you tell someone considering Touro Law?
It's never too late to earn a degree (law or any other discipline). Touro supports students at all life stages and has crafted programs around students' family responsibilities and work obligations. There are generous scholarship opportunities, flexible programs, and genuinely dedicated faculty.
Anything else you want to share?
In my fifth and final year, I am feeling a great sense of relief knowing I am almost finished. I hope my children will look back with pride knowing we did this as a family.
What advice would you offer to students?
The best advice I could offer to new students: Join the Suffolk County Bar Association! It's free for students and a great way to network with practicing attorneys.
Back