Student Spotlight: Alina Ladyzhinskaya
Student Spotlight: Alina Ladyzhinskaya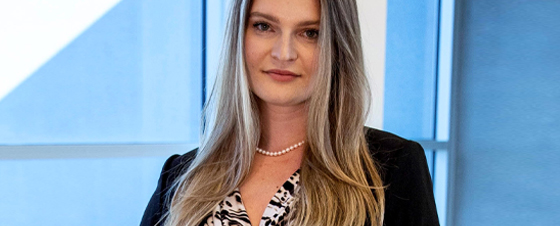 Alina Ladyzhinskaya is a full-time student who will graduate in May 2022. Growing up in an immigrant community inspired her to advocate on behalf of others and attend law school.
What made you decide to enroll in law school?
Growing up in an immigrant community in Brooklyn, NY, I experienced and witnessed the lack of resources and opportunities available to low-income families. For as long as I can remember, I have been involved in grassroots organizations, advocating for the rights of those whose voices are rarely heard. I was inspired to become an attorney to be able to educate, counsel, and alleviate burdens placed on impoverished communities.
Why did you choose Touro Law?
I chose Touro Law for its commitment to public interest and a generous scholarship, which was very important to me when I was applying.
Have you gained any hands-on experience while in law school?
While attending law school, I was eager to get involved in any and all hands-on experiences. During the summer of my 1L year, I interned at the Suffolk County District Attorney's Office. In the Fall of 2020, I externed at Greenberg & Merola, as a Tax Law intern. I thank Margarett Williams, Director of Employer Relations, for placing me exactly where I wanted with such short notice. At the conclusion of my externship, I was motivated to explore tax law at a greater depth, and I was hired as Tax Clerk at Tenenbaum Law P.C., where I currently work. Additionally, the summer of 2021, I was hired at State Farm, where I am currently working as a Trial Team intern.
Are you involved in any clubs/organizations? Can you tell us a little about those experiences?
I am a Notes Editor for Touro Law Review and the President of Touro Tax Law Society (TTLS). Being a member of Law Review is a very rewarding experience, where I improved my writing, analytical, and time management skills. Additionally, Law Review provides an opportunity to become a published author, which is one of my biggest achievements in law school thus far. TTLS has been successful at exposing different areas of tax law to my classmates and gaining overall interest in this area of law throughout Touro.
I also serve as the site coordinator for the IRS Volunteer Income Tax Assistance Program (VITA) at Touro Law. Together with a team of phenomenal student volunteers and members of TTLS, who all went through extensive training, we assist low-income taxpayers and the elderly of Long Island by preparing their tax returns for the 2021 tax year in partnership with Bethpage Federal Credit Union.
I absolutely love my experience as a site coordinator at the VITA clinic. Last year, I had the privilege of volunteering directly through Bethpage Credit Union. Ever Martinez, the Community Development Relationship Manager and my site coordinator at the time was very knowledgeable and compassionate. He set a great example and has also been very supportive in the efforts of setting up and running our very own VITA site. After this experience, I knew that I wanted to open a VITA site at Touro and involve members of our community. So far, the experience has been truly humbling and rewarding. This tax season, we are the only in-person Bethpage site in Suffolk County! The best part of this work is meeting our taxpayers, getting to know their families, hearing their stories, and of course, the immense gratitude we receive for doing something we are truly passionate about. This experience is also valuable because I have the ability to stay current on the ever-evolving tax law, sharpen my client skills, and of course, enhance my ability to manage and help to foster growth within my team of volunteers. I am fortunate to work with such a great and hardworking team of student volunteers, including my fellow site coordinator, David Carey. Finally, I am grateful to Dean Montes and Tom Maligno for their unwavering support of both our program and their mentorship.
How has your law school journey been to date? Favorite classes? Favorite professors?
My experience at Touro has been rewarding and I am grateful for the opportunities provided to me. I am deeply grateful to Professor Seplowitz for working tirelessly to help me publish my Note. My favorite professors are Deseriee Kennedy, Peter Zablotsky, Randi Rosenberg (visiting), and Judge Ukeiley. These professors are absolutely incredible, knowledgeable, and committed to educating the next class of great lawyers. I would also like to extend a huge thank you to Natasha Dasani, Assistant Director of Career & Professional Development, for her continued support and dedication to my future. I would also like to extend my gratitude to Thomas Maligno, Director of ProBono and Public Service, and Dean Jim Montes, Assistant Dean for Career & Professional Development. Mr. Maligno worked tirelessly to help us bring the VITA program back to Touro Law and Dean Montes has been incredibly supportive in helping us run the program. I highly recommend everyone enroll in classes with these professors or otherwise get to know them!
What advice would you give to someone considering law school?
Honestly, law school is a very time-consuming and difficult process. In the last three years, I have sacrificed a lot, but I do not regret it one bit. My best advice to prospective and current students is to make sure you give yourself some breathing room and reprieve from studying. Although your academic achievements are important, your mental health is equally as important.
Back