Fabio Arcila, Jr. - Professor of Law (on Leave 18-19)
Fabio Arcila, Jr.
Professor of Law (on Leave 18-19)
B.A., 1991, with distinction, University of Michigan
J.D., 1994, University of California at Berkeley Law School
Contact Info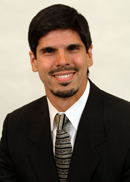 Biography
Professor Arcila joined the Touro faculty in 2004, and served as the Associate Dean for Research & Scholarship from December 2012 - May 2016. Students voted him "Professor of the Year" for 2006-2007, and he won the 2015 Excellence in Teaching Award. He was on leave as a Visiting Professor at Brooklyn Law School during 2011-2012, and as a Visiting Associate Professor at Fordham University Law School during 2008-2009.
His scholarship has focused upon Fourth Amendment search and seizure law, with a general emphasis upon civil searches. He has published articles in the
North Carolina Law Review
, the
William & Mary Law Review
, the
Boston College Law Review
(winner, 2010 James Madison prize from the Society for History in the Federal Government for excellence in an article or essay that deals with any aspect of the federal government's history), the
University of Pennsylvania Journal of Constitutional Law
, and the
Administrative Law Review
. Two of those articles have conducted statutory and common law analyses of probable cause, challenging prevailing conventional accounts of Fourth Amendment history, and another has urged an embrace of Fourth Amendment reasonableness, calling for a revamped jurisprudence that (1) more accurately describes constitutional search and seizure law, and (2) develops alternate means for safeguarding those interests that prior suspicion has traditionally protected. He has also published a response essay in the
University of Pennsylvania Journal of Constitutional Law
, as well as several shorter pieces, including two legal encyclopedia entries on Fourth Amendment topics. He has recently published in the
Brooklyn Law Review
a Civil Procedure article that examines pleading doctrine through an informational rights perspective.
He has participated in United States Supreme Court litigation during the certiorari stage in several Fourth Amendment cases, and also authored an amicus brief on behalf of Fourth Amendment historians in
Jones
, all pro bono.
During law school, Professor Arcila was an associate editor of the
La Raza Law Journal
and a member of the
California Law Review
. After graduating from law school in 1994, he worked for three years as a staff attorney for Legal Services of Southeastern Michigan, Inc., then clerked for both the Honorable Julian Abele Cook, Jr. on the United States District Court for the Eastern District of Michigan and for the Honorable Julio M. Fuentes on the United States Court of Appeals for the Third Circuit. After his clerkship with Judge Fuentes ended in 2001, he spent three years as a litigation associate at Fried Frank in New York City. Before joining Touro in 2004, he had served as an adjunct professor at Wayne State University Law School and Fordham University Law School. He is admitted to the New York bar and is a former member of the Michigan bar.
He serves on the planning committee for the annual Northeast People of Color Legal Scholarship Conference; is active in the Hispanic National Bar Association, New York Region; and serves on the board of directors for a
national migrant health organization
. He has served on the Executive Board of the AALS Section on Minority Groups and numerous of its subcommittees, as well as the planning committee for the Third National People of Color Legal Scholarship Conference.
Download CV/Resume
Courses
Administrative Law
Civil Procedure
Criminal Procedure
Evidence
Federal Courts
Poverty Law
Publications