Elena B. Langan - Dean and Professor of Law
Elena B. Langan
Dean and Professor of Law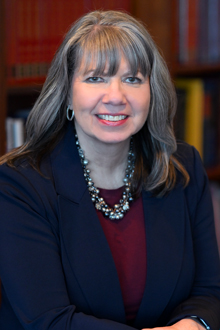 631-761-7100
elangan@tourolaw.edu
Education
B.A., Political Science, Johns Hopkins University
J.D., University of Maryland School of Law&nbsp
Elena B. Langan serves as Dean and Professor of Law at Touro Law. Dean Langan has guided Touro Law through the Covid-19 global pandemic, ensuring a successful transition to online learning for Touro Law students and faculty. She has guided the law school through a reaccreditation process with the ABA, increased fundraising for scholarships and the annual fund, expanded the clinical program, graduated the first class of FlexTime students, and has established alumni relationships nationally. Touro Law has seen its highest employment rate for graduates during Dean Langan's tenure. She also teaches a course in Family Law.
Prior to her appointment at Touro Law, she served as the Dean of Concordia University School of Law in Boise, Idaho and Interim Dean at Nova Southeastern University's Shepard Broad College of Law in Fort Lauderdale Florida, where she also served as the Associate Dean for Academic Affairs and Director of the first year lawyering skills and values program.
At Concordia University, Dean Langan served as a member of the student success subcommittee of the President's Advisory Council and was responsible for: creating, among other things, the 5th & Front Program, described as a place where law and social justice meet in service to the community; engaging in the strategic design and development of innovative JD and non-JD programs; and enhancing the reputation of the law school.
As Interim Dean at Nova she led the effort to more than double enrollment in online non-JD masters programs, increased opportunities for student experiential learning by expanding clinical offerings and led successful fundraising efforts to support student scholarships and law school programs. She had also served on numerous task forces and committees including the Bar Pass Task Force, the law library and technology center strategic planning task force, and the professionalism curriculum committee. She also was responsible for curricular and assessment changes consistent with student learning outcomes and bar passage.
Prior to entering academia, Dean Langan practiced law in Maryland and in Florida. Her scholarship focuses on law school pedagogy and law school admissions, as well as family law. A student-centered Dean, Elena Langan has been active in the American Association of Law Schools, the Inns of Court, and state and national bar associations. She is a graduate of Johns Hopkins University and the University of Maryland School of Law.
Dean Langan has successfully designed and developed innovative JD and non-JD programs, increased opportunities for student experiential learning, and enhanced law school reputations. She has a proven record in fundraising to support scholarships and program development.