Alumni Spotlight - Courtney Chua Stevens, '11
Alumni Spotlight - Courtney Chua Stevens, '11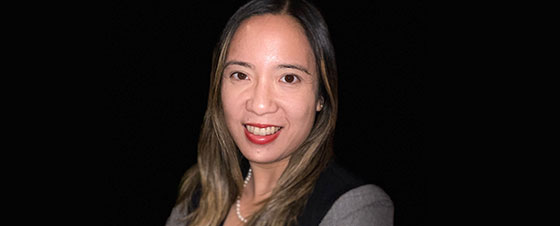 Courtney Chua Stevens, Class of 2011
Inspired by her parents moving to America to pursue the American dream, Courtney Chua Stevens always had a passion for advocacy and redressing wrongs. As a young student, she began to foster an interest in speaking and writing. She decided to pursue a legal education to combine her interests and passions. Now, Courtney works as an assistant chief counsel with the US Department of Homeland Security, Immigration and Customs Enforcement, in New York, NY.

What made you decide to enroll at Touro Law?
Along with a passion for advocacy, I always had an interest in public interest and politics. Touro's strong public interest emphasis made it stand out as a law school to me, as I wanted to get as much experience as I could, both legal and otherwise, from my law school education.
Did you have a favorite class/professor?
I absolutely adore Professor Eileen Kaufman. Constitutional Law was my favorite class in law school and further sparked my interest in government as it is related to the legal field. I always really admired her career path as a strong trailblazing woman in a predominantly male-dominated field.
What was one of your favorite law school experiences?
I interned at the New York Civil Liberties Union at the end of my second year of school. My supervisor at the time, Andrea Callan, is also a Touro alum and was a great mentor as I transitioned from student to young attorney. As you can imagine, this internship was right up my constitutional law-alley.
Do you maintain contact with any of your law school friends?
Yes, both socially and professionally. It's great to keep the network open since we all have the school connection.
Tell us a little about your career path and how you landed a job at Homeland Security.
After graduation, I worked as an associate to a solo practitioner who practiced mostly matrimonial work. That job provided me with great experience and was a good fit for me having just graduated law school. I then moved to a firm practicing both domestic relations law and immigration law. I enjoyed the exposure to immigration law and being able to diversify my portfolio of work and experiences. Next, I accepted a position as a supervising attorney of the legal services department at Gorlick, Kravitz and Listhaus P.C. in Manhattan. I worked there for two and a half years, maintaining practice in domestic relations and immigration law. Finally, in September I accepted the position at the Department of Homeland Security. I am thrilled to be working as Assistant Chief Counsel and looking forward to a successful career making a difference.
Immigration is an issue I hold close to my heart, which is what prompted me to pursue the opportunity at DHS. My parents came to the United States from the Philippines many years before I was born, and they worked exceedingly hard to give me and my brother all of the opportunities that made us both who we are today. My mom and dad are truly the meaning of the American dream, and to make a career out of ensuring that our nation is safely built on the same premise is really the pinnacle of all of my work to date. (Thanks, Mom and Dad!)
What is the most rewarding aspect of your job?
I find it so rewarding to help people out of situations that seem difficult and sometimes impossible, just through advocacy.
What advice would you give current/prospective law students today?
It's just like my parents always taught me - don't give up. It's a long road, and even after law school finals and the bar exam, day-to-day practice is not easy. But I've found that persistence makes you a stronger person and a better lawyer.
Back