Faculty Spotlight: Hal Abramson
Faculty Spotlight: Hal Abramson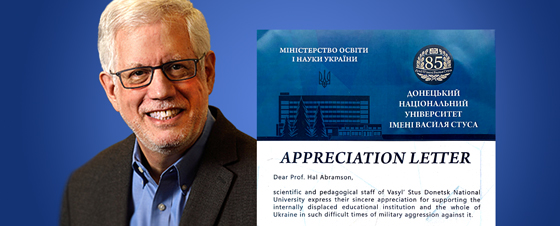 A Global Impact
Professor Hal Abramson's scholarship and work often crosses international borders, even into the Ukraine
Last summer, Professor Hal Abramson received an email about a teaching opportunity from an educational institution in Poland. Although he often receives such emails, given his scholarship in the area of domestic and international dispute resolution, this email caught his attention because it opened the door to lecturing in the Ukraine only a few months after the beginning of the Russian war in Ukraine. Professor Abramson didn't hesitate to walk through the door because it might open up a meaningful opportunity.
A researcher at the Center for American Studies in Poland conducted an internet search to find someone to teach a course on negotiation and mediation in an American-style education format. That search resulted in finding Professor Abramson at Touro Law, who is known nationally and internationally for his work in the field. He has authored several books and numerous articles, teaches courses at Touro Law, has served in leadership roles for various national and international organizations, and has conducted trainings for lawyers and law students in 19 countries on six continents. It's fair to say that his reputation preceded him and brought him this opportunity.
A Zoom call with the head of the Center resulted in an introduction to Professor Christopher Kelley at the University of Arkansas School of Law who has been doing work in Ukraine since 2005. Abramson and Kelley soon discovered that they had much in common. Kelley was a 2005 Ukrainian Fulbright scholar and is a nonresident professor at the Kyiv Taras Shevchenko National University Law Faculty in Kyiv, Ukraine, a region that Abramson became familiar with when launching Touro Law's first summer abroad program at Moscow State University. Abramson also served as an ABA Rule of Law (CEELI) Specialist in Russia in the 1990s, working on several law reform projects as Russia was trying to build a democracy. Kelley and Abramson had an instant connection, and both wanted to try to contribute in the Ukraine as the war is unfolding, but how was unclear.
After Abramson participated in two Zoom-based American-Ukrainian conferences, two universities reached out to him seeking his expertise in negotiations and mediation.
The first was Odesa State University of Internal Affairs – a University that trains police officers. Abramson accepted an invitation to present to their cadets on mediation. Next, he received an email from Donetsk National University, temporarily located in Vinnytsia after it was internally displaced when Russia took control of Crimea. Sporadic bombing made internet connections difficult, but Abramson eventually learned that the University wanted him to present to the student body and faculty on negotiations and mediation, which he did.
After those lectures, Abramson co-taught a weekend negotiation course with Professor Kelley for the Polish educational organization. The course was designed primarily for lawyers in Ukraine. Seeing an opportunity for Touro Law students to participate in the course with foreign lawyers, Abramson requested and received permission from the hosting Polish institution to invite Touro students to participate, along with a generous tuition waiver.
One of the students, Joshua Stickell, a first-year student, explained "I jumped at the opportunity to join an online weekend negotiation class taught by Professor Abramson that would include lawyers from the Ukraine." Despite the fact that the time difference resulted in the course starting at 8:00 am Eastern Standard Time, this was an opportunity he did not want to miss. Joshua added that "I was ecstatic that I could participate. I not only learned much about negotiating but also gained experience bridging cultural differences and finding common ground with my new Ukrainian acquaintances."
Abramson is now working with the Ukrainian Bar Association and leaders in the Ukrainian mediation community. He is learning about domestic disputes generated by the ongoing war, primarily disputes due to the large number of internally-displaced citizens as they move to safer areas of the country or outside of Ukraine. He also is learning about the post-war disputes that will likely emerge during the long, difficult, and expensive period of rebuilding and recovery. When the head of the mediation committee of the Ukrainian Bar Association met with Abramson for the first time, she started the meeting by informing him that the Russian language version of his mediation representation book has been used for years to train lawyers in Ukraine. He had no idea and was thrilled. She then asked whether they could translate sections of the book into Ukrainian.
Although three of Abramson's publications have received international awards including the book being used in Ukraine, he has aimed to do more during his career than simply publish articles and books. He has sought projects that have felt meaningful and impactful. Several years ago, for example, he was asked to help the U.S. Air Force Academy build its negotiation program and spent a year doing so in Colorado Springs as a visiting faculty member. More recently, he helped draft a mediation treaty at the United Nations over a three-year period, a treaty that was ultimately adopted by the General Assembly and is now under consideration for ratification by the United States.
With his attention now on Ukraine, he is in the early stages of exploring meaningful ways to contribute during this turbulent time of disorientation and destruction. As Abramson assesses what might be useful next given what he is capable of offering, he summed up what he has been hearing: "Ukrainians welcome the discussions and presentations even when they have one eye on the nearest bomb shelter. When I asked how they can do both, I was told that they cherish doing something that feels normal when so little is normal."
Abramson was thrilled to recently receive a letter of appreciation from the Rector (President) of Donetsk National University after his presentation to the students and faculty. The Rector expressed appreciation for Professor Abramson's support to their "internally displaced educational institution and the whole of Ukraine in such difficult times of military aggression…. Thank you once again that, despite your tight schedule and significant time difference, you were able to encourage and share the most valuable thing with us - scientific work. This is how a partnership that fosters prosperous and flourishing future is born. We look forward to continuing our fruitful cooperation."
Abramson plans to frame the letter as a reminder of how even the small things we do as individuals can matter to others. "The only mistake is not trying, as I continue to try as the war persists into its second year of horrors for the people of Ukraine."
Back