Student Profile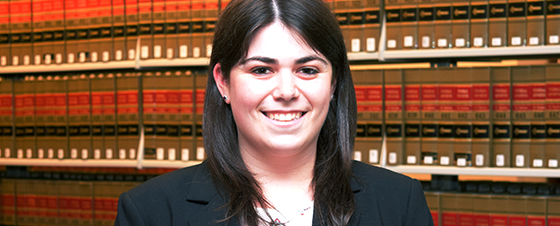 Congratulations to Touro Law student Sydney Gross whose article, "Regulating Pet Cemeteries in New York" was published in the May/June 2019 edition of New York Zoning Law and Practice Report and the article was reprinted in the September/October 2019 issue of Talk of the Towns & Topics magazine.
Sydney is a third year, full-time student who will be graduating in May. She is a member of the Touro Law Review and she is active in the Student Bar Association where she is the ABA Law Student Representative. Sydney is President of both the Criminal Law Society and Jewish Law Students Association. She originally wrote this article as her Advanced Writing Requirement for her Land Use class with Professor Michael Lewyn.
Sydney stated, "I have a passion for dogs, rescue dogs in particular, and when I was trying to find a topic for my paper I remembered that the Governor had recently signed a law about people being buried with their pets. I decided to look into that new law from a land use perspective."
Sydney was glad to have her article published and republished, hoping to make an impact in the field. "I was excited to see my paper published in the New York Zoning Law and Practice Report because that goes to zoning lawyers across New York State. I thought maybe I could convince other lawyers to pay attention to the need to create zoning regulations for pet cemeteries," stated Sydney. "When I found out the Association of Towns of the State of New York was reprinting it in their magazine that goes to all of the town officials across New York, I really started to believe that maybe I was on to a good topic that is of public interest. I also found out that the animal law committees in the State Bar and the ABA have been looking at the topic as a result of my article. It's a pretty good feeling to know that other people are reading and hopefully using my information and ideas."
After graduation Sydney hopes to work for an agency that advocates for the rights of juveniles. During her law school tenure she held externships with the Suffolk County District Attorney's office and with the Nassau County Peer Diversion Court. She also interned with Judge Tantone in Suffolk County Family Court which demonstrated the need to help children and helped reinforce her passion to do so.
"After I graduated from college, where I majored in public policy with a concentration in education policy, I held an internship in the New York State Senate and then worked there for a couple of years. That experience solidified my desire to attend law school to use the law to help people and to make a difference in their lives, especially young people who don't always have access to legal advocates to help them."
Back