What We're Reading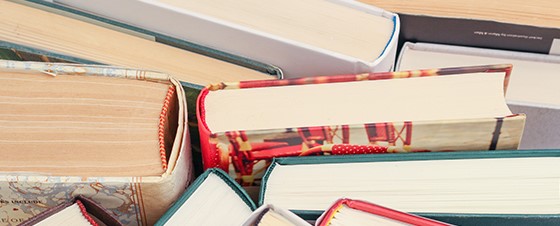 As we continue to self-quarantine, one way to get beyond where we live is by reading. Below are some faculty recommendations for books that will take you out of your home and away from your assigned reading!
What are you reading? Please email Associate Dean Rodger Citron and he will add your recommendation to the list.
What We're Reading
Associate Dean Rodger Citron – Boom Town by Sam Anderson

Sam Anderson's Boom Town began in 2012 as a magazine article about the Oklahoma City Thunder, back when it seemed inevitable that the team would spend the next decade in the NBA finals. The more Anderson visited Oklahoma City, the more he saw the Thunder as a metaphor for the history of the city. The team's general manager, Sam Presti, committed to a process that produced a boom but never quite yielded an NBA championship. Anderson's article grew into a book about a city created in 1889 in the aftermath of the Oklahoma Land Run.

For a city that aspires to be nothing more than the premier second-tier metropolis in the United States, Oklahoma City has had more than its share of tragedies and triumphs. Tornados are common and can be life-threatening. The bombing of the Alfred P. Murrah federal building in 1995 still haunts the memories of residents who lived through it. Ralph Ellison, author of Invisible Man, was born and grew up in Oklahoma City; "[a]s a teenager, Ralph took up the trumpet, and the noise of him practicing out of his open window became part of the soundtrack of the community," Anderson writes. All of these stories and more intersect and are told in this excellent book.

Professor Lynne Kramer – Shoe Dog by Phil Knight

Shoe Dog is a memoir by Phil Knight, the founder of Nike. For folks who like bios and those who might not normally think of them as good reads, Knight's book is an excellent read. There's little this book needs by way of introduction to law students other than to say it should be inspiring for you to see how someone with the desire and guts to succeed can create a company as successful as Nike. You too may have just what it takes. And by the way you don't have to have an interest in sports to like and "profit" from this book.

Professor Michael Lewyn – On the Run in Nazi Berlin: A Memoir by Bert Lewyn

I recommend this book not only because my father wrote it, but also because, as the title indicates, it is an exciting story about his successful efforts to avoid being sent to Auschwitz by the Gestapo because he was Jewish. An article in the Jerusalem Post summarizes: "What [Lewyn] relates poignantly . . . is what he had to do daily to stay alive in the years from 1942 to 1945, when as a self-described 'U-boat,' he lived secretly in the homes of kind souls, at times in the guise of an SS man, in bombed-out skeletons of buildings, in a Gestapo prison from which he escaped and then in the home of friends at the end of the war where the greatest 'miracle" of all was convincing Russian soldiers that he was a Jew and not a Nazi in hiding."

Professor John Linarelli – Caliban's War by James S.A. Corey
I am an avid sci fi fan. Caliban's War is book 2 of 8 in the Expanse series, now an Amazon Original series. Corey is the pen name for 2 authors, one of which I believe was an assistant to George RR Martin. If one is unfamiliar with the series, I recommend starting with the first book, Leviathan Wakes. It is space opera but hard sci-fi and set in the solar system. Nothing too heavy here, but there are lots of interesting political themes and consideration of how human instincts to group can get in the way of cooperating and could work to produce untold damage. Lots of fun!

Professor Meredith Miller – Just Kids by Patti Smith

I recommend Just Kids, a memoir by musician Patti Smith about the evolution of her relationship with photographer Robert Mapplethorpe in the late '60s and '70s in New York City. The book is an honest and deeply moving story about how they both struggled and thrived as they made their way as artists. But it is also a vivid portrait of the City at a time that is difficult not to romanticize - a time when artists could still trade art for rent at the Chelsea Hotel or have a chance meeting with poet Allen Ginbserg at an Automat (he purchased Smith a lettuce sandwich, at first mistakenly believing she was a young boy). Andy Warhol, Bob Dylan and William Burroughs all make appearances as well, among others. There are highs and lows, with the end of the book centered quietly but devastatingly on Mapplethorpe's final days, as he battled AIDS. This is a really beautifully written book and a captivating read for fans of art, music or anyone interested in being transported to New York City in the '60s and '70s.

Professor Tracy Norton – Little Fires Everywhere by Celeste Ng

Anything I read or watch these days has to do one of two things: be so familiar that they soothe me into a trance (thank you, West Wing and The Office) or be so jarring that I think, "Oh, thank God, THAT'S not happening right now!" So I've developed a new hobby: finding trailers of suspenseful movies or television shows and trying to speed through the books they're adapted from before the release. The book gives me that "OMG, that's even worse than a pandemic!" feeling while the television version gives me a few hours of entertainment tinged with familiarity. So here is a selection for a 1-2 punch of distracting entertainment: Little Fires Everywhere by Celeste Ng. It starts with a house fire in a wealthy suburb. The fire is set by one of the teenagers in the perfect-looking nuclear family that lives there. The rest of the book explains why a teenager in a perfect-looking suburban nuclear family might set her house on fire. The TV series just hit Hulu and stars Reese Witherspoon and Kerry Washington.
Professor Sharon Pocock – Just Mercy by Bryan Stevenson

I recently read Just Mercy: A Story of Justice and Redemption by Bryan Stevenson. It is a really inspiring story of public interest work. Attorney Bryan Stevenson has spent his career working in Alabama on appeals of death penalty cases. The stories of the people he represents and for whom he intervenes in the justice system reveal the many problems that exist in our country's criminal law system and all the good that one person can do.
Professor Leif Rubinstein – The Kommandant's Girl by Pam Jenoff

I just finished The Kommandant's Girl, a work of historical fiction by author Pam Jenoff. Fast reading and not too long, it is the story of newly-married 19 year old Emma Bau who reluctantly becomes the assistant to a high-ranking Nazi official in war torn Poland. Emma uses her position to get access to information important to the resistance movement in which her husband Jacob is a major participant. Jenoff has written numerous works of historical fiction and I plan to read next her most recent novel, The Lost Girls of Paris.

Professor Michelle Zakarin – "The Great Cyberheist" by James Verini

I recommend an article from the New York Times Magazine from 2010 that continues to be relevant today. It is a true story about a young man who earns his living as a computer hacker who eventually is caught by the FBI. What happens next is fascinating and also difficult to believe. Here's the link: https://www.nytimes.com/2010/11/14/magazine/14Hacker-t.html.
Back