What We're Reading - Student Edition
What We're Reading - Student Edition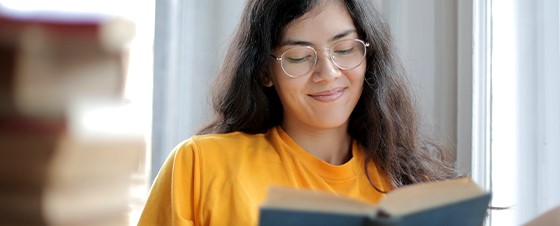 What We're Reading – Student Edition!
John Bonanno –
Through the Perilous Fight

by Steve Vogel

Through the Perilous Fight is about the War of 1812, when the British invaded the young American country while James Madison was the President. Thanks to early military blunders and bureaucratic warfare, the British succeeded in burning down the White House and the Capitol. However, even that was not enough to break the American spirit when American forces were victorious in the decisive Battle of Baltimore, America's third-largest city. This battle--aptly dubbed "the perilous fight"--saved the nation and inspired our national anthem. I highly recommend this book to anyone who loves reading about U.S. history.
Pamela Fisher-McLeod –
Becoming

by Michelle Obama

Becoming is former first lady Michelle Obama's memoir. She provides very candid accounts about her life growing up, before she became first lady, and also about her life after leaving the White House. These accounts are so poignant because, prior to reading this book, I had only seen and heard the "politically correct" Mrs. Obama. She "lets her hair down" in the same graceful, poised and humble manner that we've seen in her character over the years while revealing stories that you otherwise would not have known.
Raymond Fragola –

Clarence Thomas and the Lost Constitution

by Myron Magnet
Justice Clarence Thomas rarely speaks at oral argument, making him one of the more enigmatic justices on the Supreme Court. He's also one of our more conservative justices as well. This book explains Thomas's jurisprudence. It is a fairly easy read, designed more for the lay person than the legal scholar; nonetheless it provides an interesting perspective on a justice who has served on the Court for nearly three decades.
Jennifer Hyman –

For Equals Only: Race Equality, and the Equal Protection Clause

by Tina Fernandes Botts
Professor Botts, an assistant professor of philosophy at California State University, Fresno, examines how changing understandings of race and equality have shaped United States Supreme Court interpretations of the Equal Protection Clause over the years. I am reading For Equals Only for my AWR on affirmative action.
Nicholas Maggio –
The Iliad

by Homer

Considered one of the first works of Western literature, The Iliad is the final product of a tradition in oral poetry that explores enduring themes of virtue and heroism. At each level—language, formatting, and themes—Homer guides his audience on a journey through a classic and mythological conflict between men and Gods. Whether it be in armed conflict or debate, the characters illustrate timeless struggles that all people endure—even the ones without divine heritage. In understanding where we are, it is often helpful to understand from where we came. Because The Iliad is one of Western literature's first works, it is essential reading for anyone curious about the Western canon and the works that influenced our historical trajectory.
Georgia Reid –
Pastrix: The Cranky, Beautiful Faith of a Sinner & Saint

by Nadia Bolz-Weber

This is a memoir by Nadia Bolz-Weber, a feminist and LGBTQ-allied Lutheran Pastor. She takes no prisoners as she reclaims the term "pastrix" (a term used by some who refuse to recognize female pastors). Heavily tattooed and loud-mouthed, Nadia, a former stand-up comic, didn't consider herself to be religious leader material until the day she ended up leading a friend's funeral service. This is a book for people who hunger for a bit of hope that doesn't come from vapid consumerism or navel-gazing. It's a book for a woman who has been told she's too loud, or a guy who is called effeminate, or a gay person who feels like she doesn't "belong" in a religious organization. I also think it's an excellent book for law students to see how an individual's passion for truth and justice manifests in other ways. In all, Pastrix is a very interesting and entertaining read.
Kaseim Tripp –
Talking to Strangers

by Malcolm Gladwell

Malcolm Gladwell is famous for doing a deep dive on certain social phenomena. In Talking to Strangers, he explores the harm that may result from miscommunication or failing to understand each other. Of particular interest to lawyers and law students is his investigation of the Amanda Knox trial and how the public, lawyers, and the jury failed to understand Ms. Knox, which led to her wrongful conviction.
Back