Student Spotlight: Christine Velia
Student Spotlight: Christine Velia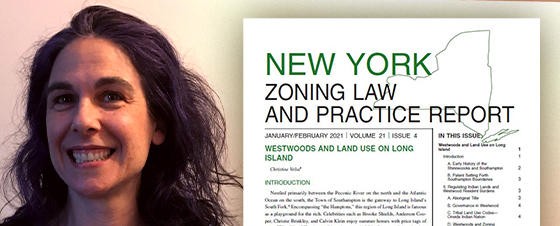 Q&A with FlexTime student Christine Velia
Christine took her boss's idea of attending law school and made it a successful venture – enrolling in the FlexTime Program gave her the chance to continue working while pursuing a law degree. She was nervous about the prospect of law school but those nerves proved unfounded. Christine has found success in the FlexTime program, making lasting friendships while preparing for a career in the law. Recently her advanced writing requirement was published in New York Zoning and Practice Report.
What inspired you to attend law school?
I have worked for a nonprofit real estate operator and developer for over 12 years. I had become bored with my job but had resigned myself to it because it is secure and fulfilling. I was in a meeting with my boss and he was complaining about all of the attorney bills that we receive. He jokingly asked how would I like to go to law school and it just struck a chord with me. I ran with the idea and the next week I met with Tom Maligno, Touro Law's director of Public Service. After speaking with Tom, I took the June LSAT exam, applied to Touro Law and started classes in August!
Why did you decide to enroll in the FlexTime Program?
I knew that I would have to attend part-time because I have a full-time job, but I also know myself well enough to know that I could never complete a part-time evening law degree. Tom had mentioned the FlexTime Program and it sounded like a perfect fit. If it was not for FlexTime I don't think that I would have pursued school.
How did you go about selecting your AWR topic?
This was a bit serendipitous. I was speaking with fellow student Victoria Stone (who is also being published!) about possible topics for our AWR assignment in our Land Use, Zoning, and Planning class taught by Provost Patricia Salkin. She had already chosen her topic and mentioned how interesting she found Indian Law to be. I mentioned to her that we have two Reservations on Long Island (she is not from Long Island) and that there is an ongoing dispute out east over land owned by the Shinnecock Nation. In the course of this conversation, I realized that this would be a great topic.
What inspired you to write about this topic?
I was particularly struck by how close to home this topic was (physically) and yet how foreign the facts were to me. Also, my undergraduate degree is in History, so I was pleased to have a topic that allowed me to dive into history. I found it to be a bonus that it was my local history. To me, the story of the Shinnecock is a real David and Goliath story with the incredibly wealthy Town of Southampton on one side and the impoverished Indians on the other. I think there is an opportunity for compromise that could benefit both sides if they can work together. It would be incredibly inspirational to see the Shinnecock Indian Nation rise out of poverty and be a successful and wealthy community.
Any words of advice for others considering law school?
Just go for it. I will be 45 when I graduate and I thought for sure I was too old to go back to school. But the fact is had I not gone back to school I would still be 45. I would have missed out on an amazing, humbling, and fulfilling experience. There have definitely been some ups and downs, but I would do it all again in a heartbeat.
Back