Student Spotlight: Victoria Stone
Student Spotlight: Victoria Stone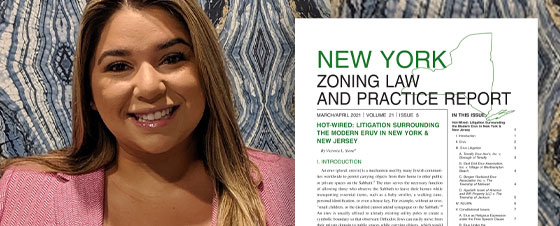 Student Spotlight: Victoria Stone
Congratulations to Victoria Stone whose article, "Hot Wired: Litigation Surrounding the Modern Eruv in New York & New Jersey" was published in New York Zoning Law and Practice Report. Victoria wrote the article as her Advanced Writing Requirement for her Land Use class. She is currently in her third year in the FlexTime program.
The article explores legal issues surrounding the placements of eruvin, a mechanism used by many Jewish communities worldwide to permit carrying objects from their home to other public or private spaces on the Sabbath. An eruv is virtually invisible, typically made of wires, but local governments have become involved in the regulation because it requires placement on public property or within a utility easement.
What inspired you to write about this topic?
This issue is occurring locally to me. The town in which I grew up is currently in litigation over the eruv. I was inspired to write about the topic because while many may view the eruv as simply a wire, it is much more than that for the Jewish community. On a broader scale, denial of the eruv inevitably allows for townships to discriminate against any religion. The greater issue is about allowing people to live where they choose to live, without fear of unlawful discrimination through the law.
What do you think the impact of the article will be?
My hope for the article is that it is eye opening to what is occurring in many Jewish communities, and for people to understand that if we allow government prohibition for one group, it will happen to another group. This issue also affects many constitutional topics, which are relevant to all of us.
Why did you decide to go to law school?
I wanted to go to law school to make a difference in my community. While I have a passion for working with juveniles on a volunteer bases, I chose to write about this topic because it is something happening in my community. Bringing awareness to injustice on a local level is as important as bringing awareness to injustice on a national level.
What are your plans after graduation?
After graduation, I hope to obtain a clerkship in New Jersey and continue my work volunteering with the juvenile community.
What advice would you give prospective students?
I would tell prospective and current law students to pursue their passion and make a difference. We should all strive to be attorneys who are truly servants to the public and to our clients.
Back