Student Spotlight: Raj Telwala
Student Spotlight: Raj Telwala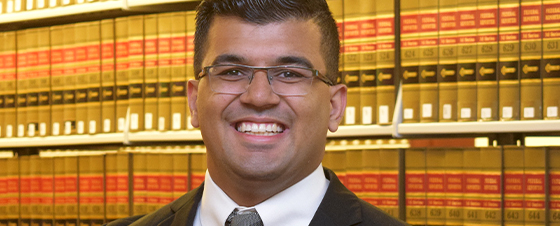 Raj Telwala Named Student Ambassador
Raj Telwala is entering his third and final year at Touro Law, and was just selected as a 2021 Student Ambassador for the American Branch of the International Law Association.
The American Branch of the International Law Association is a diverse and inclusive community of individuals working or interested in international law. The Branch serves several functions that set it apart as a leader. Student Ambassadors help with the work of the organization, especially in the preparation of International Law Weekend 2021 (ILW 2021).
This prestigious selection will bring many great opportunities and networking this year for Raj.
Professor John Linarelli nominated Raj for this position. He stated, "­­­­­Raj has demonstrated a true passion for international law and its practice and for understanding the fundamental connections of law to the globalized world in which we live."
Why did you apply to be a student ambassador?
I applied as a 2021 Student Ambassador for the American Branch of the International Law Association because I have gained an interest in the field of international law while at law school and this opportunity would provide me with valuable networking opportunities and resources so that I can further explore my interests and bring those experiences back to the law school.
What do you think being a student ambassador will mean to you?
Being a student ambassador will allow me to grow as a law student both professionally and intellectually. This will allow me to broaden my knowledge in international law.
What are you looking forward to as a Student Ambassador?
As a student ambassador, I am looking forward to working with the community and learning more about international law and its applications to contemporary issues.
What area(s) of the law are you most interested in?
I am interested in international law, contracts, administrative law, and human rights. After law school, I hope to be able to work in the government focusing on these areas of law with an emphasis on the international aspects of them.

What made you decide to attend law school?
While I was in high school I interned at a local District Attorney's Office, which provided me with exposure to the law for the first time. It got me interested in the justice system and the ways I can help others. I realized that a legal career would provide me with a way to help those who have been faced with injustice both individually and systematically.
What advice would you give incoming and prospective students?
Explore every opportunity. You never know what you will find in an opportunity -- and what you find might be career and life-changing!
Back