Student Spotlight: Eric vonCzerniewicz
Student Spotlight: Eric vonCzerniewicz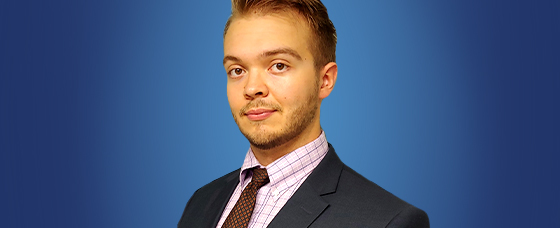 Driven to find a career that would combine his desire to serve the public with his ambition to improve the world around him, Eric found the field of law and hasn't looked back since.
Earning a law degree was born out of a necessity to find a career that would continue to motivate Eric vonCzerniewicz.
Deciding what career path to pursue was no easy task for Eric. Despite spending a lot of time researching different professions, none of them seemed like a good fit. "I think the problem was that I felt a real lack of purpose," Eric said. "I wanted a job where I could be confident my work was going to help do something necessary and beneficial. When I looked at the list of careers for which I was qualified, I didn't think any of them were just right."
It wasn't until his final year in college that Eric had a breakthrough when his academic advisor recommended a career in public service. "I was a philosophy major constantly working with my advisor on my thesis in ethics. He got to know a lot about me and my aspirations, and the topic of my thesis often got us into discussions about the world and how each of us could improve it. He suggested pursuing a job where I can take some of the ideas we would often discuss and put them into practice might provide the purpose I was seeking." This is when Eric's approach to finding a career changed entirely. "I completely switched gears and started trying to find a profession that would put me in a position to do the most good."
Eric found the law. He loved all of the possibilities of a career in law – enabling him to find a way to combine his passion for doing good with his dedication to do well. He studied for the LSAT, enrolled at Touro Law and started law school with the hope he would finally find a career to pursue that he would love. And, the early results are encouraging. "I am currently working part-time for Nassau Suffolk Law Services and doing continued work for a law firm where I had done pro bono work during the summer. I spend more time working or studying for my career than I ever have before and yet I'm always motivated to do more."
Eric was drawn to Touro Law because of the school's commitment to pro bono legal services, which he thought was a perfect fit for his goals in law school and after graduation. He received a generous scholarship that will enable him to keep his student debt to a minimum. This is important to Eric because he wants to be "free to take a job that fits my goals and ideals without worrying about the pay." And, he knew he wanted hands-on experience and has not been disappointed in the available opportunities at Touro Law.
Eric secured a summer internship after his first year of law school. Following this, he participated in several pro bono opportunities including working for Touro Law's COVID-19 HELPLINE, a private law firm and a non-profit legal services provider. Then, Tom Maligno, Touro Law's Director of Pro Bono, suggested Eric assist an attorney at the Rajotte Law Group with a case involving medical marijuana usage. "This experience felt like a natural progression from the work I was already doing. It led to a really amazing experience working on a case that had real impact and meaning."
Eric assisted Rajotte Law Group on a Virginia pro bono case involving student's rights and medical cannabis law. Their client had a license to use medical marijuana in the state of Virginia and is currently attending Northern Virginia Community College to become an occupational therapy assistant. The program requires that students in the OTA program complete a number of field work hours with the college's clinical affiliates. In order to complete this requirement and secure clinical placements, students must submit a drug test to the university. When the client's test came back positive as a result of her cannabis prescription, the university had reservations about allowing her to continue in their program. They withdrew her from classes and pulled her out of orientation to tell her that she would be expelled unless she could produce a negative drug test before the fall semester began. Prior to this, the college was willing to negotiate, so their sudden hardline stance came as quite a surprise to Eric, the firm, and their client. Moreover, the college decided on this course of action on a Friday just one weekend before the start of classes, so there was very little time to act.
Eric stated, "We got to work immediately drafting a legal brief to be filed with the courts when they opened Monday morning. We hoped to get a temporary restraining order that would stop our client's expulsion from her university at least temporarily. My job was to tackle the bulk of the legal research and draft our causes of action. We also quickly got in contact with Virginia state senator Janet Howell. She came down firmly on our side and agreed to contact the university and tell them to resolve this issue ASAP. After reading over our causes of action and speaking to Senator Howell, the university agreed to reinstate our client's registration before we had the chance to even file the complaint."
Eric continued, "Obviously winning the day and getting exactly the result that our client wanted was incredibly valuable to me personally. I've never had a more gratifying work experience and it only reaffirmed my desire to become a legal professional. The experience of being directly involved in a legal dispute regarding cutting edge issues was also immensely valuable. I learned so much about negotiation, research, crafting legal arguments, and the politics behind issues of law and I am still processing a lot of it. No matter where I wind up working in the future, I feel that this experience taught me many skills that will help me become a better lawyer and a more capable advocate."
Eric is driven to continue to devote his time to public interest work. He said, "I got just a taste of how much of a difference I could make as an attorney once I graduate and it was great. I know my law school performance coupled with continued hands-on work experience will further my chances of getting a job where I can do this kind of work every day. That alone is enough to inspire me to do the very best I can while I'm here at Touro Law. I know that when I graduate, I will have all of the tools I need to be able to keep doing what I love while making a difference in the world."
Back