With Liberty & Justice for All Annual Dinner
With Liberty & Justice for All Annual Dinner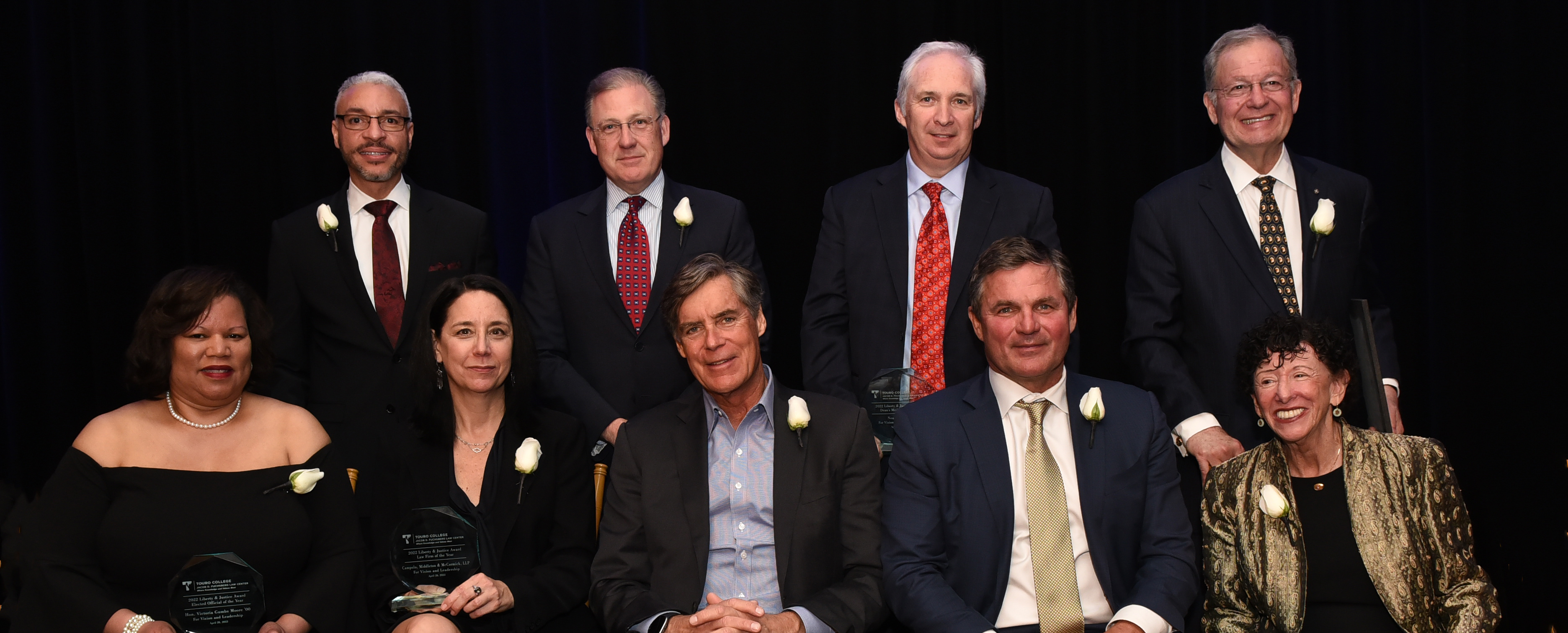 Liberty & Justice For All Annual Dinner Recognized New Builders Society Inductees, Other Honorees, Raises Nearly $500K
Touro Law Center welcomed two new members of its Builders Society and honored several other individuals, law firms and corporations at the annual With Liberty & Justice for All dinner held on April 28, 2022 at the Garden City Hotel. The event raised nearly $500,000 to support the programs and students of Touro Law, making it the most successful in the law school's history.
"This 17th annual gala was a true celebration of Touro Law Center, our people, and our programs," stated Elena B. Langan, Dean and Professor of Law. "Proceeds from the dinner enable us to provide significant scholarship support for current and incoming students. We are thankful to all who supported the dinner and continue to support Touro Law."
At the Dinner, new members of the Builders Society are inducted, honoring individuals who have played a role in the establishment of a solid foundation for the Law Center. This year's Builders Society inductees are John Tsunis, Executive Vice President of Alma Bank's Private Banking Group, and Linda Howard Weissman, Assistant Dean of Institutional Advancement at Touro Law. In addition to the Builders Awards, several other honorees were recognized throughout the evening. Neal Garelik, President of Excel Global Security, received the Dean's Medal for his extraordinary support of Touro. Mr. Garelik has been a long-time friend to Touro and has scholarships established at both the Law Center and Nursing School. Corporation of the Year award was presented to TRITEC Real Estate Co, Inc., who is currently developing an apartment complex at the site of the former Touro College School of Health Sciences. Elected Official of the Year Award was presented to The Hon. Victoria Gumbs-Moore '00. Law Firm of the Year was presented to Campolo, Middleton & McCormick, LLP. And the Paul S. Miller Award was presented to Dorian R. Glover '96, former President of the Nassau County Bar Association.
Also recognized at this year's dinner were the 2022 Alumni Award Honorees. Law School Service Award was presented to Marjorie Mesidor Ulysse '04, Phillips & Associates, Attorneys at Law PLLC. Outstanding Young Alumni award was presented to Pallvi Babbar '12, Babbar & Associates, P.C. And the Keith Romaine Elected Official Award was presented to Keith P. Brown '94, NYS Assemblyman, 12th District.
All money raised at the dinner support scholarships and programs at Touro Law Center. For additional information about giving to Touro Law, please visit www.tourolaw.edu/giftgiving.
CHECK OUT EVENT PHOTOS HERE:
Back