Faculty Spotlight Assistant Dean Sara Berman
Faculty Spotlight Assistant Dean Sara Berman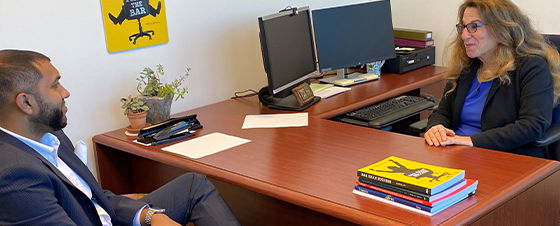 Assistant Dean for Academic Excellence and Bar Programs Sara Berman joined Touro Law in 2021 to direct and manage Touro Law's Academic Excellence Program, serving students from their first year of law school through licensure. She wants students to get to know her and the programs that are in place at Touro Law to help students succeed.
What attracted you to Touro Law?
Many things attracted me to Touro Law. Just to name a few, Touro's reputation for being a student-centered teaching community, our dedication to experiential learning, and Touro's mission: "consistent with Jewish tradition, to provide a diverse student body a rigorous, innovative, and immersive path towards becoming practice-ready professionals committed to promoting social justice and serving the needs of their clients and communities with compassion and integrity." To me, this mission really says it all! This is why I became a lawyer. The role of the lawyer in our society is critical. People may make lawyer jokes, but people turn to lawyers for advice whenever there are problems, lawyers occupy seats on boards of every major corporation and nonprofit, and most of our legislators have legal backgrounds. You, our law students, are the future guardians of the rule of law, of our democracy. Nothing could be more important.
What classes do you teach?
Here at Touro, I helped develop the current Introduction to Legal Analysis (ILA), Practical Legal Analysis (PLA), and Advanced Legal Analysis (ALA) courses, and this semester, I am teaching the PLA courses. In the past, I have taught, contracts, torts, and criminal law in 1L and recently published the Step by Step Guides to those three subjects on the West Study Aid platform. For many years, I also taught remedies, family law, criminal procedure, and business associations.
What is your favorite thing about teaching?
My favorite thing about teaching is the moments when I see lights sparkle in a student's eyes. Knowing that a rule or legal concept we have been studying has suddenly become clear is an incomparably joy. One driving force for entering the academy originally was to help make things clearer for others –and it is a nonstop pursuit to try to find the best ways to make complex rules easy to understand.
What do you love most about a career in the law?
I love that it's real, that it matters. I always say that if people like reality TV they should love law school because everything we read about in law school cases actually happened. And, it matters because the rules we study are precedent – what we do and decide today will shape the world we live in tomorrow. I love working together to help make the world a better place. That's what I see as the power of law.

Are you currently working on any scholarship?
Yes, at any given moment, I am typically working on several books and articles. My main focus this year is a law school success book series, based on my Bar Exam Success book – and I am also re-recording the audio versions of the series. I am writing a couple of articles as well, including one on coaching struggling law students and one comparing legal education and theatre education. There are more similarities than you may think – including 1) the work product of lawyers and actors are both judged publicly, 2) both fields must work collaboratively, and 3) law and theatre depend on superb communication skills to reach the clients and audience respectively.
You do amazing work with Bar preparation, could you tell students more about this and where they can access this information?
Thank you! I want students to know everything is easily accessible on Canvas at Becoming a Lawyer: Your Touro Success Resource Center. Of course, Becoming A Lawyer (BAL) as we call this Canvas resource, links to many other helpful resources. But on BAL, there is information on exactly what Touro students need to do to become licensed to practice law. There is information about the bar exam, the MPRE, the NYLE, and character and fitness requirements. There are links to resources about the New York bar and about bar exams in New Jersey, Florida, California, and other jurisdictions in which our graduates may also be interested. There are resources to inspire and help find the motivation to study for the 500-600 hours after graduation, that are required to pass the bar exam. There is critical information on time management and mental health and wellness. There are videos of interviews with Touro grads sharing their secrets to success, and much much more. Every Touro student is enrolled in BAL! Check BAL regularly!!
What advice would you offer to current/prospective students?
As you know, I could talk for days with current and prospective law students, so let me here try to boil it down to three main tips:
Find your "why" and keep it close at all times – It is vital that you remain purpose-driven while in law school.
Know that you are part of a community and you are never alone - There are tons of resources to help you, from your professors and the law school staff, to the thousands of free books and videos in the library, to an entire profession that will work with you if you reach out. You can also get invaluable assistance from those who previously tackled the same or a similar challenge.
Take the long view - It's not just what you do today but what you do over your lifetime that will make your days fulfilling and help make the world a better place.
If you have questions or would like to reach out to Assistant Dean Berman, don't hesitate! She can be reached at sberman5@tourolaw.edu. And the email for the Department of Academic Excellence and Bar Success is success@tourolaw.edu.
Back