Alumni Spotlight: Laurette Mulry '99
Alumni Spotlight: Laurette Mulry '99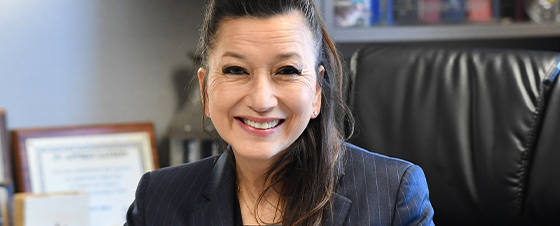 Justice for All
Homegrown Lawyer Devotes Her Life to the Underserved in Her Community
Laurette Mulry has loads of vacation time coming and she couldn't care less about taking it. Since 2016, Mulry has been attorney in charge of the Legal Aid Society of Suffolk County, New York. She's the first woman in that job, a role that this attorney and activist for the poor, young and elderly, relishes on a daily basis. And she's just getting started.
Among her many duties and responsibilities, she oversees more than 130 attorneys. More than 50 of those lawyers are graduates of Touro University Jacob D. Fuchsberg Law Center, which speaks to the regard Mulry holds for the institution from which she graduated summa cum laude in 1999.
"It's a school that presents so many opportunities and an excellent foundation for the practice of law," she says. "I can't say enough about the professors, staff and my colleagues, who today are lawyers, legislators and judges and are still some of my closest friends. But the reason I hire from Touro is because I know the passion these graduates have for this kind of work. The belief that justice is for all of us, not just the wealthy and the lucky."
Mulry's tenure reflects her belief in compassion and action. Her office is the Indigent Defense Service for Suffolk County, and Mulry's team serves a stunning 30,000 cases a year in criminal, family and appellate courts. A married mother of three adult children — two lawyers and a nurse — Mulry spends time writing grants to help broaden and widen those services. "Legal Aid's clients suffer from many of the challenges of the criminal justice system like mental illness, homelessness, drug addiction and family conflict."
So Mulry goes to work, lobbying legislators and boosting the coffers through state funding and grants. During her tenure, she's added a Social Worker Unit, a Paralegal Unit and a Regional Immigration Assistance Center.
She adheres to the concept of restorative justice and is an active board member on many organizations. Under her tutelage, The Legal Aid Society of Suffolk County identifies and makes referrals to county-funded programs that address clients' issues, such as mental illness or drug addiction, thereby averting the need for police involvement and incarceration.
The Legal Aid Society of Suffolk County also has an outreach staff that works with established community faith-based groups throughout the county. "Some of our Touro lawyers come from the same communities that we serve. Touro Law, itself, is located right here in our neighborhood," says Mulry. "They understand what it is for people to take three or four buses to get to court. We take up collections for bus tokens, or clothes, or food or toy drives. Whatever our clients need, our lawyers and staff are generous in their desire to help make lives better."
A proud Filipino American, Mulry grew up in Suffolk County. Her childhood was happy and financially secure, with a cardiovascular surgeon father and nurse mother. Everyone, including her, thought she'd go into the medical field. In fact, she was doing pharmaceutical marketing for a time, and reflects, "it just didn't feel like it was me."
She became interested in law, but she also got married and had a child. Her mom told her about Touro and said, "You don't even have to move, it's right here," she recalls. "Well, I got in and fell in love with Touro and the law. I just took to it. Now, this felt like me."
During her second semester, she got pregnant with a second child and was very ill. "I was too sick to go to class. And then one of my professors told me not to drop out and talked to my other professors. My classmates took notes and gave them to me so I could keep up. I would not be an attorney today if not for Touro."
Upon law school graduation, Mulry took a part-time job in the Senior Citizens Bureau within the Legal Aid Society. "You learn from everything you do," she says. "From seniors, I learned that it's not one thing, just like with other impoverished people. They're fighting eviction, but then you discover they aren't eating well. Many don't know how to access food stamps, Medicaid, fair hearings in courts and other services."
At one point, Mulry was accepted into a prestigious tax program at New York University, but by then she had worked at Legal Aid with her elderly clients and there was no going back. "I saw the end result, and that is very satisfying, encouraging and infectious. It's a quality-of-life thing, and my quality of life must involve giving back."
So, about that five weeks of vacation she hasn't used, Mulry says, "I feel like while I'm here, I want to do as much good with it as possible!"
Back