Touro Law Celebrates the Class of 2018
Touro Law Celebrates the Class of 2018
June 1, 2018
On Sunday, May 26, Touro Law Center celebrated the Class of 2018 at the 36th annual commencement ceremony. This year's graduation, held at the Tilles Center for the Performing Arts, honored 120 Juris Doctor candidates, 1 candidate for the J.D./M.S.W. program and 3 candidates for the LL.M. in U.S. Legal Studies as well as several December 2013 candidates including 19 Juris Doctor candidates, 1 J.D./M.S.W. candidate and 1 LL.M. candidate.
Dean Harry Ballan welcomed graduates, their family and friends and distinguished guests. He offered words of support and encouragement in addition to congratulations. He reminded graduates, "Respect yourself, take care of yourself and then take care of others." He continued, "Study hard, pass the bar, flourish in your professional lives and in every aspect of your lives."
The commencement address was delivered by Suffolk County District Attorney the Hon. Timothy Sini. He addressed the graduates, reminding them they should be extremely proud of themselves, and stated, "How you choose to make this world a better place is of little consequence, what matters is that you play your part. That you are a force of good…and you use your skills to affect positive change."
Valedictorians and salutatorians were honored for their outstanding achievements. This year's full full-time valedictorian was Stephen Weinstein and part-time division valedictorian was Luann DePoto Dallojacono. Full-time salutatorian was Michael J. Borger and part-time salutatorian was Jenna Jonassen. Hailey Kantrow was nominated as Class Orator and addressed her fellow graduates, faculty, deans, family, friends and guests on Sunday. She reminded fellow graduates that they are all smarter and wiser than when they started and their passion to help those in need have caught fire as they are eager to begin their careers. She also reminded them, "We gained each other….we have now become a family."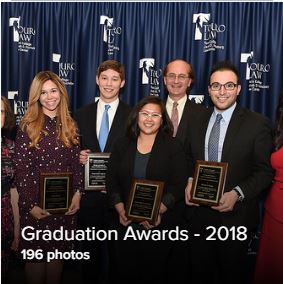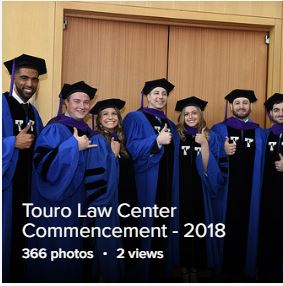 XXX
Touro College Jacob D. Fuchsberg Law is located adjacent to both a state and a federal courthouse in Central Islip, New York. Touro Law's proximity to the courthouses, coupled with programming developed to integrate the courtroom into the classroom, provide a one-of-a kind learning experience for law students, combining a rigorous curriculum taught by expert faculty with a practical courtroom experience. Touro Law is dedicated to providing hands-on learning that enables students to gain experience while offering much-needed legal services in the community.
Touro Law, which has an alumni base of more than 6,500, offers full- and part-time J.D. programs where students can earn a degree in 2, 3 or 4 years and provides four areas of concentration Additionally, Touro offers a hybrid, four-year FlexTime Program combining online and on campus learning. Touro Law offers several dual degree programs and graduate law programs for US and foreign law graduates, including a new online LL.M. in Aging & Longevity Law. Touro Law Center is part of the Touro College system.
About the Touro College and University System
Touro is a system of non-profit institutions of higher and professional education. Touro College was chartered in 1970 primarily to enrich the Jewish heritage, and to serve the larger American and global community. Approximately 18,000 students are currently enrolled in its various schools and divisions. Touro College has 30 campuses and locations in New York, California, Nevada, Berlin, Jerusalem and Moscow. New York Medical College; Touro University California and its Nevada branch campus; Touro University Worldwide and its Touro College Los Angeles division; as well as Hebrew Theological College in Skokie, Ill. are separately accredited institutions within the Touro College and University System. For further information on Touro College, please go to: http://www.touro.edu/news/.
For more info contact:
Patti Desrochers
Director of Communications
pattid@tourolaw.edu
(631) 761-7062