Law School Application | Apply Online Today | Touro Law Long Island, NY
Apply Online - No Application Fee!
Thank you for your interest in applying to Touro Law Center.
Please select below which program applies to you and follow the link to the online application. All applications will be processed in a timely manner. If you need additional information, please contact our Office of Admissions at (631) 761-7010.
JD Programs
January Start (Full-Time) - Online Application | PDF Application
May Start (2-Year Accelerated JD) - Online Application | PDF Application
August Start (Full-Time, Part-Time, FlexTime) - Online Application | PDF Application
Transfer Student - Online Application | PDF Application
Visiting Student - PDF Application
Programs for Foreign Law Graduates
These programs are for students who hold a professional law degree from an educational institution outside of the United States. The educational institution must be accredited and the degree must satisfy the academic requirements for entry into the legal profession in the country where the institution is situated.
Program for JD Degree Holders from ABA Accredited Law Schools
Qualifications for Admission to the Bar (American Bar Association Standard 504)
In addition to a bar examination, there are character, fitness, and other qualifications for admission to the bar in every U.S. jurisdiction. Applicants are encouraged to determine the requirements for any jurisdiction in which they intend to seek admission by contacting the jurisdiction. Addresses for all relevant agencies are available through the National Conference of Bar Examiners.
Get to know more about Touro Law!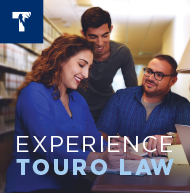 Click here.