Richard Daniel Klein - Professor of Law
Richard Daniel Klein
Professor of Law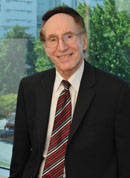 631-761-7126
rklein@tourolaw.edu
Education
B.S., with Honors, 1964, University of Wisconsin
M.A., 1968, Columbia University
Master in International Affairs, 1969, Columbia University
Graduate Certificate in African Studies, 1969, Columbia University
Doctorate Degree, 1970, Columbia University
J.D., 1972, Harvard Law School (President, Student Bar Association)
Ford Foundation Fellow in International Development Columbia University, 1966-69, and at Harvard University, 1969-70&
Courses
Criminal Law
Advanced Criminal Law
Taught courses in International Human Rights Law
Richard Klein received his B.S., with honors from the University of Wisconsin; Masters and Doctoral Degrees in International Affairs, Columbia University; J.D. from Harvard Law School. Professor Klein was a Ford Foundation Fellow in International Development at both Harvard and Columbia Universities. He has been a grant recipient from the Harvard Law School Civil Rights Coordinating Committee as well as from the Harvard Law School Center for Criminal Justice.
Professor Klein served as a Peace Corps Volunteer in Somalia, and worked for 10 years as a trial attorney with the Criminal Defense Division of the Legal Aid Society. He has been a member of the faculty at Hofstra Law School and CUNY Law School, and a Visitor at the Law Department of the University of Hong Kong. He has received numerous awards from students in appreciation of his teaching, and is active with several committees of the Criminal Justice Sections of both the American Bar Association and the Association of American Law Schools (AALS), having served as Section Chair. He has taught International Human Rights Law in Vietnam, Germany, China, India, Russia and Israel. His scholarly publications have focused on the Constitutional Right to Effective Assistance of Counsel, Constitutional Challenges to the Death Penalty, and International Human Rights issues focusing on the People's Republic of China.
Publications
An Analysis of China's Human Rights Policies in Tibet: China's Compliance with the Mandates of International Law Regarding Civil and Political Rights
, 18
ILSA J. Int'l & Comp. L.
115 (2011)
An Analysis of Thirty Five Years of Rape Reform: A Frustrating Search for Fundamental Fairness, 41 Akron Law Review 981 (2008)
An Analysis of Death Penalty Decisions from the 2006-2007 Supreme Court Term, 23 Touro Law Review 4 (2008).
Death Penalty and Right to Counsel Decisions in the 2005 – 2006 Term of the Supreme Court, 22 Touro Law Review 1003 (2007).
A Comparative Analysis of the Jewish Law and Secular Perspectives on International Human Rights, Jewish Law Report (2006).
Judicial Misconduct in Criminal Cases: It's Not Just the Counsel Who May Be Ineffective, 4 Ohio State Criminal Law Review 1 (2006).
The Supreme Court's Analysis of Issues Raised by Death Penalty Litigants in the Court's 2004 Term, 21 Touro Law Review 891(2006).
Due Process Denied: Judicial Coercion in the Plea Bargaining Process, 32 Hofstra Law Review 1349 (2004).
Cultural Relativism, Economic Development and International Human Rights in the Asian Context, Touro International Law Review 1 (2001).
The World's Youngest Political Prisoner, 59 The Humanist 2 (1999).
The Constitutionalization of Ineffective Assistance of Counsel, 58 University of Maryland Law Review 1433 (1999).
The Status of Human Rights in Hong Kong, 57 The Humanist 22 (1997)
Reprinted in 3 American Reporter 688 as An American Reporter Special Report: Hongkong, Britain and China: The Experience of Democracy.
Immigration Laws as Instruments of Discrimination: Legislation Designed to Limit Chinese Immigration into the United Kingdom, Touro International Law Review 1 (Spring 1997).
The Empire Strikes Back: The Use of Law by the British to Suppress Political Dissent in Hong Kong, Boston University International Law Journal (Spring 1997).
Constitutional Concerns About Capital Punishment: The Death Penalty Statute in New York, 11 Suffolk Academy of Law Journal (1996).
Law and Racism in an Asian Setting: An Analysis of the British Rule of Hong Kong, Hastings International and Comparative Law Review, Winter 1995.
The Indigent Defense Crisis, Special Report, in book form, prepared for the American Bar Association, July 1993 (with Robert Spangenberg).
The Eleventh Commandment: Thou Shalt Not be Compelled to Render the Ineffective Assistance of Counsel, Indiana Law Journal, Spring 1993.
Legal Malpractice, Professional Discipline, and Counsel for the Indigent, 61 Temple Law Review, 1171, Winter 1989.
Court-Induced Ineffective Assistance of Counsel: The Failure of the Judiciary to Safeguard the Defendant's Right to a Fair Trial, Criminal Practice Law Review, Summer 1989 (revised and updated version of the Boston College Law Review Article).
The Relationship of the Court and Defense Counsel: The Impact on Competent Representation and Proposals for Reform, 29 Boston College Law Review, 531 (1988).
The Emperor Gideon Has No Clothes: The Empty Promise of the Constitutional Right to Effective Assistance of Counsel, 13 Hastings Constitutional Law Quarterly 625 (1986).