Cynara Hermes McQuillan - Assistant Professor of Law
Cynara Hermes McQuillan
Assistant Professor of Law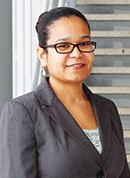 Cynara Hermes McQuillan is an Assistant Professor of Law at Touro Law Center. Professor McQuillan previously served as the Assistant Dean for Bar Success and Visiting Professor of Law at New York Law School where she led the implementation of strategies and programs designed to ensure bar success and taught bar related courses. Prior to serving as Assistant Dean of Bar Success, Professor McQuillan taught Legal Practice, a year-long course introducing students to essential lawyering skills.
Professor McQuillan is no stranger to Touro Law Center. From 2014-2016, she was the Assistant Director of Bar Programs and Academic Development at Touro Law Center where she provided academic counseling, bar tutoring, and other academic support.
Professor McQuillan previously worked at St. John's University School of Law as an adjunct professor of law and as a fellow in the Ronald H. Brown Center for Civil Rights and Economic Development. As an adjunct, she taught a seminar course, Interviewing and Counseling, in which she introduced students to interviewing, counseling, and negotiation skills through the use of simulations and collaborative exercises. As a fellow, she advised undergraduate and law students regarding the legal profession, law school applications, exams, and curriculum.
Professor McQuillan started her legal career as a litigation associate at Proskauer Rose LLP, where she worked on general commercial litigation in both state and federal courts, represented clients in corporate defense and investigations, and worked on human rights and immigration cases.
Professor McQuillan has always been deeply committed to pipeline programs and continues to devote her time to such. She was a member of the New York City Bar Diversity Pipeline Initiatives Committee and was a founding Board member of the Charter High School for Law and Social Justice in the Bronx.