Suzanne Darrow-Kleinhaus - Professor of Law
Suzanne Darrow-Kleinhaus
Professor of Law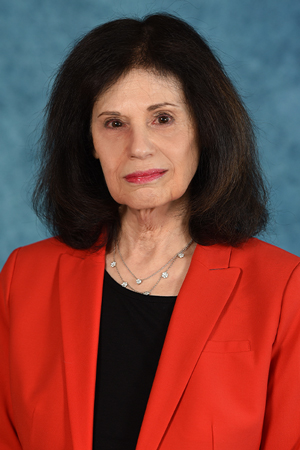 631-761-7116
skleinha@tourolaw.edu
Education
B.A., summa cum laude, 1976, Hofstra University J.D, summa cum laude, 1998, Touro College Jacob D. Fuchsberg Law Center
Courses
Contracts I and II
Sales and Remedies
Professor Darrow-Kleinhaus joined the faculty at Touro in 2000 as a Legal Process professor and in 2003 became the Director of Academic Development. As Director, she coordinates all aspects of Touro's Academic Development programs, from orientation to bar examination preparation.

Professor Darrow-Kleinhaus' scholarly interests are wide and varied, as reflected in her numerous publications. She has published in the areas of contracts, labor law, the Fourth Amendment's Exclusionary Rule, and federal preemption of state tort law as it relates to government regulation of medical devices. She has published extensively in the area of bar exam preparation and law school learning. Her books include The Bar Exam in a Nutshell 2d Edition, Acing the Bar Exam, and Mastering the Law School Exam. She has also written law review articles in this area, A Response to the Society of American Law Teachers' Statement on the Bar Exam and Incorporating Bar Pass Strategies into Routine Teaching Practices.

Professor Darrow-Kleinhaus recently authored two new books in the area of Contracts, Acing Contracts, and a book specifically on the New York Bar Exam published in 2012 by Thomson West titled The New York Bar Exam by the Issue, co-authored with Myra Berman and John. C. Cooney. The Contracts casebook addresses the Carnegie Foundation's recommendations in Educating Lawyers for law faculty to engage in explicit teaching and implement the pedagogies called for in the Best Practices project. She is currently working on a new series of books for West entitled Mapping the Law: Cases and Concepts. Professor Darrow-Kleinhaus is the series editor and there will be a Mapping for each of the first year subjects. She is also working on the Second Edition for Mastering the Law School Exam which is expected to be published in the spring.

Professor Darrow-Kleinhaus' present focus is on integrating learning theory into the classroom. She teaches a section of Contracts II for first year students in academic difficulty where analytical skills development is integrated with the teaching of substantive course doctrine. She also teaches a for-credit bar-preparation course for graduating students which provides extensive instruction in bar study principles and answering bar examination essay and MBE questions.

Professor Darrow-Kleinhaus presents on issues of academic support and most recently spoke at the 2008 Academic Support Training Workshop at the University of Maryland School of Law.

Prior to joining the faculty, she was in private practice at a public sector labor law firm. Here she prepared a comparability study of the collective bargaining agreements for the police and firefighters unions over a 20-year period for the 38 cities, towns, and villages that comprise Westchester County for a compulsory interest arbitration. The arbitration resulted in an award that broke a 20-year pattern of pay parity that had held back increases for the City of White Plains Policy Department.

Before attending law school, Professor Darrow-Kleinhaus was a technical writer in the software, electronic, and medical device manufacturing industries. She was also an adjunct faculty member of Polytechnic University where she taught Report Writing.

As a Regulator Affairs Correspondent for a $43 million medical device manufacturer, she oversaw all regulator reporting requirements to the FDA, including drafting and filing Annual Reports, device listings, 510(k) Premarket Notifications, Initial reports and Report Supplements. She researched and wrote protocols for clinical trials of new products, monitored Investigative Review Board studies for the clinical use of investigational medical devices and coordinated the company's ISO certification.

Special projects in data communications included writing the Instruction Manual for a network patching system for Tinker Air Force Base, system documentation for a network control and restoral system for the San Francisco Bay Rapid Transit System and an operator's manual for a monitoring system for Bell Canada.

Suzanne Darrow-Kleinhaus received a B.A. from Hofstra University (summa cum laude) and her J.D. from Touro Law Center (summa cum laude).
Publications