Alumni Spotlight: Salaam Bhatti
Alumni Spotlight: Salaam Bhatti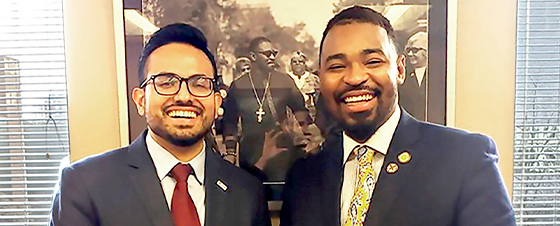 Easing the Way
A Dose of Humor and Heart Helps Virginia's Vulnerable
Born and raised in Harrisburg, Pennsylvania, to immigrant parents from East Africa, Salaam Bhatti
grew tired of hearing his grandmother telling him he had to become a doctor or scientist. Bhatti countered with a respectful: "There are enough brown doctors and scientists. There aren't enough brown lawyers and that's what I'm going to be, a lawyer!"
And so, it came to pass. Bhatti, who graduated from Touro Law Center in 2011, was the Commencement
Speaker, as well as the co-founder of the Muslim Law Student Association. "I enjoyed the diversity of
faith at Touro Law, and I engaged with people from so many different backgrounds," he says. "There
were lots of disagreements, but you're in law school, so you aren't going to fight. You're going to debate
and argue your position like you're in court."
For the past four-and-a-half years, Bhatti has been a staff attorney at the Richmond-based Virginia
Poverty Law Center and Director of Virginia Hunger Solutions. A deeply religious man with a playful sense of humor and a determination to help others, Bhatti believes that to do well, he must do good.
And he does. His work focuses on government programs for the poor from the Supplemental Nutrition
Assistance Program (SNAP) to Temporary Assistance for Needy Families (TANF). "We make sure that low-income people don't have to jump through more hoops for fewer benefits," says Bhatti, whose
center also helps create legislation to help the needy. It also helps to kill legislation that does the opposite. He is prepared to sue the state in order to get what the underserved adults and children of
Virginia need. "I haven't had to sue the state yet," he says proudly. "We've come to solutions through
administrative hearings."
The pandemic has been particularly burdensome on the less fortunate. Toward that end, Bhatti led legislation to expand the SNAP program, which has resulted in making more than 25,000 families eligible
for benefits. "And it was a completely bipartisan bill," he says. "Not one 'no' vote."
That's not all. During the pandemic, Bhatti felt he had to come up with a solution for people who needed help learning about and accessing available services for which they might not know they were
eligible. So, he wrote a grant and began a phone-in help line, hiring two people to answer the phones. "We've had over 300 callers in just one month," he says. He also came up with an online calculator that people can access through their phone or computer to figure out if they are eligible for state benefits. "I came up with it out of laziness," he jokes. "This way, I don't have to do the math for each caller." More than 3,000 people have made use of the phone app, he says. "You know, a lot of the most underserved people also have no broadband service, so it was desperately needed."
Fortunately for his clients and co-workers, Bhatti has a healthy funny bone. He spent seven years doing
stand-up comedy, something he began while at Touro Law, and still does improv in the spare time he has between work and spending time with his wife and son. He's no longer ashamed to admit that
he may have wanted to become a lawyer for a reason only he and his mother knew.
Bhatti's mom was hooked on the legendary television show Law & Order. Her young son soon took
up her habit. "I used to joke that I thought I wanted to be a lawyer," he says, "but I actually wanted to be Sam Waterston, the actor who played lawyer Jack McCoy."
Bhatti has no career regrets. He gets to play himself on life's stage while helping children and their families live better lives. "This is the best job I ever had," he says.
Back