Graduate Spotlight Felicia Gaon
Graduate Spotlight Felicia Gaon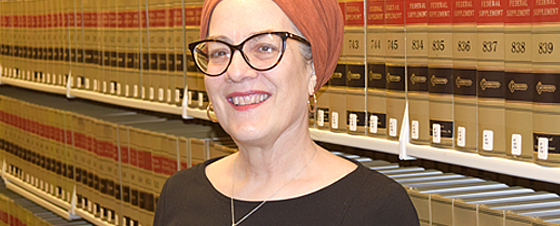 Felicia began to think about earning a law degree in high school, wanting to advocate for deaf individuals after watching a movie about a deaf individual who was in criminal court but did not have representation that he understood. Her life took a different path, but she eventually found her way to Touro Law's FlexTime JD Program.
After more than 30 years of working in alternative and special education programs, including the last fifteen years as a special education district administrator, Felicia knew it was time to pursue the goal she hadn't yet achieved. She states, "At my doctoral defense, the committee asked me what was next, and I replied 'law school.'"

She applied to Touro Law's FlexTime Program. As an Orthodox Jewish woman, knowing that there would never be classes or events on the Sabbath or Jewish holidays that she would miss was appealing.
As a working woman and mom of 7, she knew that the FlexTime program's flexibility for classwork and Sunday schedule for in-person classes was the program she needed to succeed. And, succeed she did.
"Law school was an amazing experience," Felicia reflects. "It was probably one of the most difficult experiences of my life. It was challenging but rewarding. I am so glad I followed my dream and earned a law degree. I plan to put it to good use advocating for others."
Felicia gained hands-on experience in the Education and Youth Justice Clinic and the Advanced In-House Clinic, both directed by Professor Melina Healey. She also obtained experience through an externship at the Anti-Defamation League in the Civil Rights Unit, and an internship and Pro Bono Scholar externship at the New York Legal Assistance Group (NYLAG). These experiences shaped her law school experience and future path.
"With Professor Healey's support, I realized my potential and got myself to the place I needed to be while in law school. She helped me see a path to the future that incorporated my 30-year career and my love of the law."
Professor Healey quickly recognized Felicia's talents and potential. She stated, "Felicia Gaon is a talented advocate with a deep commitment to her clients. She is poised to make important contributions to the law in her future career as an attorney. This likely comes as no surprise as Felicia has already demonstrated her talent and drive during a successful career as an effective and empathetic elementary and secondary special education leader. Felicia has used this unique expertise to benefit dozens of clients in Touro's clinical program, and this year was personally responsible for recovering over $300,000 in educational benefits and compensatory services for her low-income clients."
Felicia is graduating cum laude from Touro Law in May 2023 as a Pro Bono Scholar who has already passed the New York Bar Exam. She will begin her career in the Special Education Unit at NYLAG. Felicia was named a recipient of the New York State Bar Association (NYSBA) 2023 President's Pro Bono Service Award, a prestigious award recognizing outstanding pro bono contributions made by individual attorneys, law students, law firms, corporate counsel and/or government offices.
For anyone thinking about a law degree she says, "Make law school the experience that you want it to be. I learned that it is possible and worthwhile."


Back