Legal Services for the Community
Legal Services for the Community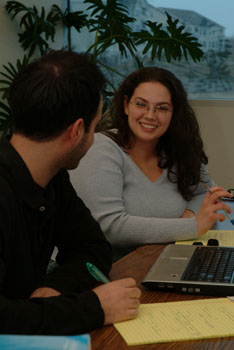 To assist our neighbors, Touro Law sponsors:
Clinics, offering legal representation in the areas of Family Law, Mortgage Foreclosure, Veterans' and Servicemembers' rights, and more. Representation is provided by upper-level law students, working under the close supervision of experienced lawyers who are clinical professors. There is no charge for clinic representation. However, the clinics have limited resources and cannot take every case, no matter how deserving. Clinic staff members meet with potential clients by appointment only. Please do not visit the Law Center unless you have first contacted the Office of Clinical Programs at 631.761.7080 to see if you are eligible.


The VITA (Volunteer Income Tax Assistance) Project, helping senior citizens file their state and federal income tax returns. As with clinics, the project has limited resources and cannot take every case, no matter how deserving. To see if you are eligible – and schedule an appointment with a project representative – call 631.761.7033.


Senior Citizens Law Program at Touro Law Center, legal services provided by licensed attorneys, without charge, to Suffolk County residents only, ages 60+.

Assistance with government benefit programs, consumer debt issues, landlord-tenant matters, durable powers of attorney, health care proxies, living wills, home repair fraud, financial exploitation, institutional abuse, warranties, and contracts, and related matters.

Funding provided by the U.S. Department of Health and Human Services and the New York State Office for the Aging through the Suffolk County Office for the Aging.

For more information please call 631.761.7470 or click here.


The Law Office of The Public Advocacy Center, the Law Office of the Public Advocacy Center is a non-profit law office funded primarily by the Office of Court Administration's (OCA) "Access to Justice" grant and supplemented by a grant from the Education & Assistance Corporation's (EAC), which is funded through the Office of Temporary and Disability Assistance's (OTDA) "Just for Dads" program.

The objective of the office is to represent clients who otherwise would not be represented by other legal services organizations due to funding restrictions imposed by their respective funding sources and to involve law students in all aspects of a functioning law office. Although primarily funded by OCA to serve Suffolk County residents, the supplemental funding through EAC provides for representation of non-custodial fathers in Family Court matters in Nassau County as well. This law office, under the guidance and supervision of Staff Attorney Danielle Schwager, Esq. and Public Advocacy Center Director Thomas Maligno, is bridging the gap in representation to residents of Long Island in three specific areas of law, wherein the courts and EAC have recognized a significant lack of attorney access: Consumer Debt; Landlord/Tenant (for undocumented and certain low-income clients, including poor landlords); and non-custodial unwed fathers in Family Court matters.

To avoid overlap with other legal service providers, the Law Office of the Public Advocacy Center is coordinating with other local non-profit legal service providers, such as Nassau/Suffolk Law Services and the Empire Justice Center to institute a referral system, which will ensure that the Law Office of the PAC serves only those who could not receive legal services elsewhere. The number of clients able to be served by law office is greatly increased through the active participation of law students enrolled at Touro Law Center. Students who work with this office receive substantial court exposure, in-depth practical skill development and guidance, and the experience of working through multiple real cases, which fosters an exponential advancement of legal professional development.