Legal Services for the Community
Legal Services for the Community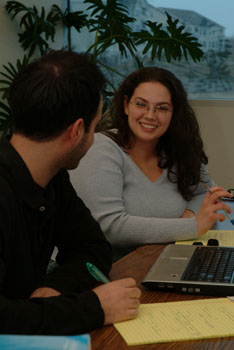 To assist our neighbors, Touro Law sponsors:
Clinics, offering legal representation in the areas of Family Law, Mortgage Foreclosure, Veterans' and Servicemembers' rights, Immigrant Rights, and more. Representation is provided by upper-level law students, working under the close supervision of experienced lawyers who are clinical professors. There is no charge for clinic representation. However, the clinics have limited resources and cannot take every case, no matter how deserving. Clinic staff members meet with potential clients by appointment only. Please do not visit the Law Center unless you have first contacted the Office of Clinical Programs at (631) 761-7080 to see if you are eligible.


The VITA (Volunteer Income Tax Assistance) Project, helping senior citizens file their state and federal income tax returns. As with clinics, the project has limited resources and cannot take every case, no matter how deserving. To see if you are eligible – and schedule an appointment with a project representative – call (631) 761-7033.


Senior Citizens Law Program at Touro Law Center, legal services provided by licensed attorneys, without charge, to Suffolk County residents only, ages 60+.

Assistance with government benefit programs, consumer debt issues, landlord-tenant matters, durable powers of attorney, health care proxies, living wills, home repair fraud, financial exploitation, institutional abuse, warranties, and contracts, and related matters.

Funding provided by the U.S. Department of Health and Human Services and the New York State Office for the Aging through the Suffolk County Office for the Aging.

For more information please call (631) 761-7470 or click here.


The Public Advocacy Center, Touro Law Center is home to the William Randolph Hearst Public Advocacy Center. The only one of its kind in the nation, the Center was developed to have an impact on social justice, legal training, and the lives of countless individuals in and beyond the local community. The Center uses Touro Law students for advocacy services, research work, and client relations. Students work with these organizations to satisfy their pro bono requirements while developing an understanding of the problems facing the local community. For additional information, please call (631) 761-7033.